The Woodlands Furniture Cleaning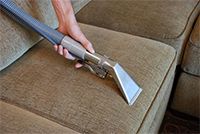 Different upholstery requires different cleaning techniques. Our technicians will recommend the appropriate cleaning method for your upholstery. Safety and your desired results are our main concerns. Before the main job begins, we will test a small area of your upholstery to be absolutely sure that you will be happy with the results.
If upholstery is simple to clean and involves little risk, our prices will reflect that ease of operation. For more delicate and valuable upholstery, which obviously requires more difficult procedures, our price will be somewhat higher.
Having your carpet cleaned by our professionals is a great investment. Not only do you have the peace of mind that you and your family are breathing easier, but nothing brightens up a home like fresh, clean carpets and upholstery. Why not protect that investment by having our staff of trained professionals apply fabric protectant? We always recommend this process as part of our total cleaning program.
Furniture Cleaning Services
Like your carpets, your upholstery sees a lot of action. Over the years, spills have accumulated, you find the wet dog asleep on it, the kids jump on it. You usually can't stop all of this from happening, but you can minimize the appearance of it. Let us treat your upholstery with a fabric protectant. It will help resist spills, staining and ultraviolet radiation, all of which dull the appearance of your upholstery.
Maybe you've noticed that your once attractive sofas are looking like a mess of stains and spills. There's really no need to go replacing your furniture and draperies. With our professional furniture and drapery cleaning services, you can give your existing upholstery and draperies an instant face lift. When we're through with our upholstery cleaning processes and specialized furniture cleaning techniques, you'll never believe that stunning new couch is actually your own!
Whatever material your upholstery is made of – over the years it attracts its fair share of dust and dirt. Then there are the spills and stains that you have to contend with over the years. Juices and other drinks, baby formula, ketchup – your upholstery will take tons of damage and before long, you'll begin to notice that the fabric that you loved on your sofa is now covered with too many stains to ignore. Our furniture cleaning service can get rid of the dust, pollen, dander and other allergens that reside deep within the fabric of your sofa without damaging your furniture.
Detergents and stain removers can do only so much to get to those stubborn coffee stains or the grape juice your son spilled. In fact, most stain removers are of no use against tougher, more stubborn stains like tea and coffee. Our crew makes use of specialized processes and techniques to make sure that your furniture and draperies are truly clean. Bacteria and other microns are eliminated while the furniture itself is not damaged at all.
Furniture Cleaning Service Areas
We make use of special solutions and professional upholstery chemicals that get to the root of the stain to remove it. These techniques are safe and will not damage your drapery or furniture fabric. We examine the fabric carefully to look for any signs of reaction to the products that we use. We check for color fastness and texture before we begin our furniture cleaning process.