The Woodlands Carpet Cleaning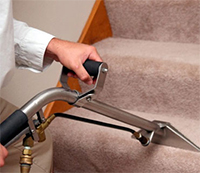 Your home is an outward statement of your personality and way of life from the pictures on the wall to the carpets on the floor. Don't let your carpets tell the wrong story. Carpet provides a vast array of benefits to your home such as warmth, comfort, beauty, preventing slips and falls, reducing noise and reducing air borne allergens.
It is a common misconception that carpets contribute to asthma and allergy symptoms. Many studies conducted over the past 15 years have shown relationships between reduced symptoms and air borne particles with carpeted rooms. Particles, such as pollen, dust and pet dander fall to the floor and become trapped by carpet fibers, which prevent them from being redistributed into the air. The key to cleaner air is to make sure carpets are properly maintained and vacuumed. However, over time, more impurities become trapped into the carpet, making it more and more difficult to vacuum them out of the carpet.
The life and beauty of carpet depends on how well the carpet is cared for and maintained. The life of quality carpet should be around 10-15 years as long as it is well-maintained. Proper cleaning will help improve indoor air quality, adhere to carpet warranties and keep it looking great for its lifetime. It also helps protect your investment by preventing carpet from needing to be replaced too soon.
Carpet Cleaning Services
We use only the hot water extraction method, which works to remove bacteria and dirt from deep within carpet fibers without resorting to detergents and shampoos. These detergents can leave behind a residue, which over time can harm your carpet further and decrease its life span. Our hot water extraction cleans your carpet, protects it, leaves it looking fresh and allows your carpet to adhere to manufacturer warranties.
Think vacuuming your carpet gets it clean? Even the best vacuum cleaner collects only a fraction of the dust, dirt and other allergens in your carpet, including pet dander and dust mites. Dust mites? You bet. There are billions of these tiny insects that thrive on the stuff your vacuum cleaner doesn't—and can't—get out of it. Ask any pro, and they'll tell you that the only way to rid your carpet of these pests is high pressure steam cleaning.
There are many ways to clean carpets. Our professional technician will recommend the best cleaning method for you, explain exactly what's going to be done, then get to work. The Steam Team will provide you with the most complete carpet cleaning service anywhere.
Carpets are by nature high-traffic areas. Day after day dust and grime settle into it, people walk all over them, spill stuff on them. Applying carpet protectant can help your investment in cleaning your carpet last, keeping your carpet fresher, longer. This is the final recommended step in our thorough cleaning process. The Carpet Manufacturers recommend re-applying protector after every cleaning. After applying Steam Team Protector to the carpet, more dry soil will be removed with vacuuming, spots will be removed easier, your carpet will last longer and look better.
Carpet Cleaning Service Areas
First impressions are the most important. What does it say about your company if the first thing your clientele see is a dirty, smelly carpet? Our team has a commercial carpet maintenance program that will fit your company's budget. Our courteous customer service staff will help you by customizing a maintenance program that will not only get your carpets clean, but maintain that appearance for the life of your carpet.